Most Frequently Used Resources
For Veterans
: Veterans hold a special place in my heart, and they seem to be the people most in need of help at this given moment. So, first of all— I'm going to give you information on how to get help, if you're a veteran.
First of all
, there is a dedicated website and a few numbers devoted to helping you.
The website is here
; if you're a veteran and you need help, you can call 1-800-273-8255 and press 1, or, you can text a message to 838255.
There is also a confidental online Veterans chat
, if you prefer chatting instead of texting or calling.
· · ·
If you're lonely and just need someone to talk to
: I feel that most problems can be ameliorated just by talking with someone about it. 7 cups of tea is such a place: it's a place where people volunteer to be active listeners.
If you're feeling down, you can always talk to an active listener about anything at 7 cups of tea.
From their website:
"Whether you are going through a challenging time or just want to talk to someone, at 7 Cups you'll find a path connecting you to kind people and helping you develop new skills to solve your problems. Over 3 million conversations. Over 6 million people supported."
You can connect directly to somebody nice to talk to, just by clicking here.
· · ·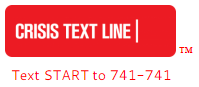 If you're having a crisis and you need to text somebody
: If you're dealing with depression, anxiety, eating disorders, bullying, suicidal thoughts, or anything else, why not try
the Crisis Text Line
?
Just text START to 741741 to get started.
Works free-of-charge with AT&T, T-Mobile, Sprint, and Verizon.
· · ·
If you need a therapist
: If you're feeling really bad, I would encourage you to see someone who's
trained
to help you! Through
BetterHelp
, you can quickly find a licensed therapist who will be able to help you more than many of these links. BetterHelp promises that they "... provide anyone facing life challenges with
easy, discreet and affordable access to professional counseling from a licensed therapist
. And, apparently, you can talk to the therapist
online
!
In addition
, they also have a
VERY
nice help page, filled with numbers for all sorts of help services and hotlines, that you can access at this link:
Get Help Now
. They also have apps for iPhone and Android, if you don't want to use the website.
· · ·
If you're suffering from any sort of mental issue or substance abuse, SAMHSA is where you should go.
The Substance Abuse and Mental Health Services Administration
(SAMHSA)'s job is to help you deal with whatever mental or drug-related issue you're currently suffering from.
SAMHSA
provides several helplines and services that you can call:
SAMHSA's National Helpline
, phone number 1-800-662-HELP (4357), TTY: 1-800-487-4889, is the number you should call if you have a mental or drug issue you're suffering from: they will provide information and refer you to people who can help you. SAMHSA also offers the
Disaster Distress Helpline
, a service that "provides crisis counseling and support to people experiencing emotional distress related to natural or human-caused disasters." You can "[c]all 1-800-985-5990 or text TalkWithUs to 66746 to connect with a trained crisis counselor."
SAMHSA
also provides a way to locate physicians and treatment programs designed to help those who are addicted/dependent upon opiods, heroin, and prescription pain killers.
· · ·
If you're dealing with domestic abuse / violence, then this app may help.
Called the ICE BlackBox Digital Witness, anything you record with this app is sent directly to law enforcement. You can use it to record your abuser, and the app will provide a permanent evidentiary record that cannot be deleted, as it's uploaded to the cloud. It is currently available for
Android
and
iOS
. Before I say anything else:
Be careful using the following websites if you suspect your computer is being monitored by your abuser.
If you feel it's safe to do so, you can call
The National Domestic Violence Hotline
at 1-800-799-7233 | 1-800-787-3224 (TTY).
Live chat
is also available from 7 a.m. to 2 a.m., U.S. Central time. There are also hotlines listed state-by-state in the U.S., here:
The Feminist Majority Foundation Domestic Violence Hotline List
. [
archive
] (numbers may change— I archived this because the site's a little unresponsive) They also keep a list of hotlines and resources you can use if you're being
sexually harassed
[
archive
], or
sexually abused
[
archive
]. To quickly and easily find a domestic violence shelter near you, visit this site:
DomesticShelters.org
. For your convenience, I also have a (right now, only partially) reconstructed list of an old, now-unavailable domestic violence hotline resource. I'm going to be verifying and reconstructing this list myself over the coming weeks and months. If you'd like to access it right now, it is available
right here
. If you are a victim of sexual assault, please call
the National Sexual Assault Telephone Hotline
at 800.656.HOPE (800.656.4673)
· · ·
Information for Runaway Kids
: This used to be a huge problem, and, it apparently still is. According to the
National Runaway Safeline
, between 1.6 and 2.8 million youth run away in a year. If you've run away from home or you know someone who has and you're looking for help, call this number: 1-800-RUNAWAY (1-800-786-2929). They also have a
forum
.
If you need help, if you don't know who to turn to or who to call for help, just look at the following table of contents, and select the sort of trouble you're experiencing.
· · ·
Perhaps you have another problem.
One that doesn't fit under these things. Let me try to read your mind:
· · ·
When Suicide Hotline Numbers are listed directly on this page for your convenience, they are pulled DIRECTLY from the websites listed next to them, on the date listed. If, by some quirk of fate, they do not work, PLEASE go to the website to find the new number(s)!!
· · ·
☰
I am feeling suicidal
Don't do it. Don't give up. There are people who care about you, and you don't even know them! Talk to them, I beg you! (◕ᴗ◕✿)
If you're just feeling sad, you can always talk to someone online at 7 Cups of Tea.
From their website:
An explanation of what they do
.
"7 Cups of Tea is an on-demand emotional health and well-being service. Our bridging technology anonymously & securely connects real people to real listeners in one-on-one chat. Anyone who wants to talk about whatever is on their mind can quickly reach out to a trained, compassionate listener through our network. We have hundreds of listeners who come from all walks of life and have diverse experiences. People connect with listeners on 7 Cups of Tea for all kinds of reasons, from big existential thoughts to small, day-to-day things that we all experience. Unlike talking to family or friends, a 7 Cups of Tea listener doesn't judge or try to solve problems and say what to do. Our listeners just listen. They understand. They give you the space you need to help you clear your head."
Also,
here are a boatload of Suicide Hotlines!
Here are ones specifically for the United States of America
,
and
here is an exhaustive list of International Suicide Hotlines
!
*
Help based in the U.S.

National Suicide Prevention Lifeline
provides a 24/7 suicide hotline, as well as a TTY hotline.
You can also chat online to receive support, by going to the link above.
# checked December 31st, 2016


la Red Nacional de Prevención del Suicidio
Si usted se siente suicida
o que necesita para ayudar a alguien que lo hace,
llama al número 1-888-628-9454.
(disculpen, mi español es limitado.)
# checked December 31, 2016


Veterans Crisis Line
The Veterans Crisis Line provides a 24/7/365 confidential toll-free hotline, as well as online chat support, text support, and support for those who are deaf or hard-of-hearing. Go to their website at the link above to find the link to chat ("chat online"), or send a text message to 838255 to start receiving help. All help is confidential.
# checked December 31st, 2016
*
I am a victim of domestic abuse / violence
HotPeachPages - An amazing resource, this is an INTERNATIONAL DIRECTORY of Domestic Violence Agencies. Has all the info you could ever need. For ease of use, I recommend using the Countries A-Z listing. Sadly this resource does not appear to have resources for abused men-- at the very least I could not easily find it.
For an app that may help you report your domestic abuse, please see
this link
.
Help based in the U.S.
safehorizon - Domestic Violence & Abuse: Shelters. Provides a hotline you can call to secure shelter. Also provides a Domestic Violence hotline, a Crime Victims hotline, and a Rape & Sexual Assault hotline.
International
Help for Abused Men: Escaping Domestic Violence by Women or Domestic Partners. Lists a hotline for abused men who live in U.S. and Canada; in the U.K.; and in Australia. Lists resources / provides support/information for straight, gay, bisexual, and transgender men.
# checked December 31st, 2016
*
I am a man who is feeling depressed, anxious, and/or suicidal Based in the U.S.
Help for depressed men. How to beat it, how to cope, advice, support, everything. Includes how to help the depressed man in your life.
Based in Australia
beyondblue - a support service for men experiencing depression and anxiety. Related to Man Therapy, below. Provides resources that may help men dealing with depression and anxiety. They also appear to host a forum.
mantherapy.org.au (Man Therapy) - From the website's section, "Worried about someone"-- "Man Therapy is designed to get blokes to take practical action to take charge of depression and/or anxiety, and to combat suicidal thoughts." Includes a hotline you can call, 24/7. Online chat support, and e-mail support are also available.
mensline.org.au (Men's Line) - From the website's front page: "MensLine Australia is a professional telephone and online support and information service for Australian men". Provides both 24/7 telephone hotline, as well as online counseling, video counseling, and an online forum.
*
I am an LGBTQ(+) individual who is feeling depressed, anxious, and/or suicidal
The Trevor Project Mental Health Resources - provides resources on how to handle anxiety, depression, eating disorders, thoughts of suicide, and substance abuse. Includes hotline, text, and chat.
Based in the U.K.
Galop.org.uk "The National LGBT Domestic Abuse Helpline"
Emotional and practical support for LGBT people experiencing domestic abuse. Abuse isn't always physical- it can be psychological, emotional, financial and sexual too. Speak out, don't suffer in silence.
Strangely this hotline is only open for about 7 hours a day, most days. So you'll have to check the hours for that. It advertises itself as "The UK's Only National, Lesbian, Gay, Bisexual And Trans Domestic Abuse Helpline". However: if you need help outside of those hours, you can always go to
Switchboard
.
Switchboard — the LGBT+ helpline
From their website:
Welcome to Switchboard – the LGBT+ helpline – a place for calm words when you need them most. We're here to help you with whatever you want to talk about. Nothing is off limits, and we understand how anxious you might feel before you pick up the phone. ... Switchboard provides a one-stop listening service for LGBT+ people on the phone, by email and through Instant Messaging.
Currently, as of this writing, it's open from 10am to 10pm. Outside of that,
please check this list of U.K. specific support helplines
.
*
Other problems
Perhaps you have problems that don't fall under any of these. Perhaps said problem is of an extraordinary nature. That's where these go. You are invited to
contact me on Twitter
through direct message if you have a problem you need some advice for. (My Direct Message system is configured to allow anyone to send me a private message.)
Please note that I cannot give any professional advice: only very personal advice.
NOTE: Abuse of this kindness has led to the abridgement of this opportunity I've been offering. Let me disabuse you: I reserve the right to discontinue, limit, or completely ignore any person or organization found to be misusing this avenue of communication.
You can read why this decision was made, by clicking
here
.
There is a child in danger and I don't know who to contact.
Depending on the nature of the problem, as I am not a law enforcement officer, I can only give you non-binding advice that isn't exactly "legal" advice. As such, please do not sue me: I'm only trying to help. Here's what
I
would do in a few situations:
I've seen child pornography posted on social media and I don't know who to contact to report it.
This is simple enough: if you're feeling brave, you can contact the National Center for Missing & Exploited Children, via telephone, or through
their online reporting form
. I have used it extensively for nearly its entire existence: don't be afraid that you're going to get in trouble for sending in an anonymous tip, you
won't
. You'll actually see results, too. When contacting them through the form, include as much information as you can. You do
NOT
need to include any information about yourself. The categories of reporting are pretty intuitive.
I know that a child is being targeted by a pedophile. Who do I contact?
Contact your local police and The National Center for Missing & Exploited Children (NCMEC). Contact NCMEC through their
CyberTipline
; from the FBI's official website,
FBI personnel work at NCMEC and have access to the Cyber Tip Line, the "9-1-1 for the Internet."